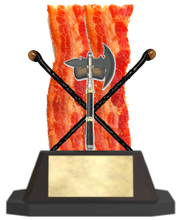 A combination of all the finest rivalry trophies the midwest has to offer, the Axe Bacon Shillelagh Trophy finds its genesis in a Curious Index conversation that turned to Paul Bunyan's Axe. Commenter Erik T brought up the previous Minnesota-Wisconsin trophy, the legendary Slab of Bacon that Barry Alvarez kept in his office. It was suggested that the axe be mounted to the slab and the slab returned to circulation. Later that day, during the (abysmal) Pitt-Cincy game overflow thread, commenter Pain In The Sash wondered about the Jewelled Shillelagh's status as relative to the new Axe Bacon Trophy. The shillelagh was added to the new trophy, and now all midwestern teams (even Purdue) play for the coveted Allstate Axe Bacon Shillelagh Trophy brought to you by Home Depot.
Community content is available under
CC-BY-SA
unless otherwise noted.